ARTISTS
Alexei Borisov
Moscow, Russia (RU)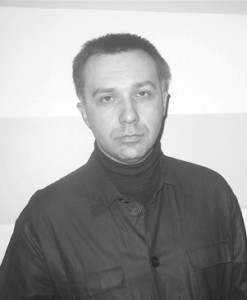 Photo: Antje Mayer/©Laton
Laton Discography:
Alexei Borisov – Multiviza (Laton 046,CD)
About:
Alexei Borisov is a Russian industrial / noise / electronic music legend and scene pioneer based in Moscow. He is well known for his various projects since the Soviet times. Borisov was and is the driving force behind many Russian new wave, industrial, electronic bands such as Tsentr, Nochnoi Prospekt and Volga.
Since the beginning of the 90's Borisov plays in electronic duo "F.R.U.I.T.S." (with Pavel Jagun), that became quite well-known in Russia and abroad. Among other projects, are electro-ethnic project "Volga" (with Angela Manukjan and Roman Lebedev), "Gosplan Trio" with Moscow saxophonist Serge Letov and experimental duo with Anton Nikkila (Finland).
In 2000 Borisov and Nikkila formed "N&B Research Digest" recording label. Among other Borisovs' collaborations are the joint projects with the performance-group "North" (Russia), KK Null (Japan), Jeffrey Surak (USA), Leif Ellgren (Sweden).
Lately Borisov developped a music career as as a DJ in clubs / radio and contributed as a journalist to some Russian ("Bulldozer", "Ptjuch", "Fuzz", "Downtown", "man'Music", etc.) and foreign ("B'Mag", "Technikart") magazines and newspapers.
His solo works under his own name are known for their electronic harshness and analogue warmth. Be it abstract drone works or extreme experimental electronic, Borisov is always creating unique, signature sounds.
Astma is his latest imprint, a duo project together with Olga Nosova (drummer and vocalist mostly known for her work with Moscow noise-core band Motherfathers).
Quote:
One is rarely confronted elsewhere with such acoustic extremes as in Russia. Whereas the major cities are a Moloch drowning out everything else with its chaotic noise, on the lonely internal steppes the only noise is the sound of the blood coursing through ones ears. The metropolises such as Petersburg or Moscow are piles of electromagnetic refuse. It spills out of every crack mixing with Russia's great musical inheritance left behind by Constructivism, Futurism and real Socialism. What is left? A kind of post-Perestroika sobering up phase, a result of the disintegration of shared anti consensus approaches. If not here then where else, outside the UK, could producing industrial music have made historical, ideological and social sense? The axis "Enthusiasm" (Vertov) – "Art Brut/ Musique Concrete" -"Industrial" had practically to be re-imported to Russia by means of blueprints such as Sergei Kuryokhin, Alexander Solshenitzyn, "Throbbing Gristle", "Laibach" and, indeed, Alexej Borisov. If Glasnost achieved anything in musical terms then it was the fact that the idea of resistance had to be repositioned.
Alexei Borisov seems aware of history. Surreal and futuristic particles are found throughout his sound language. His art employs everyday life mixing it with linguistic absurdities in the spirit of the "Soviet Kafka", Andrei Platonov and flanking it with abstract sequences of noise and electronica. This is illustrated in the equipment as well as in the song and recitation texts that he has cultivated for some time and which are full of cross-linked neologisms. Samples from sports broadcasts, old radio sounds, frequency noise, feedback and rhythmic patterns interrupted at several points are the tactics with which Borisov operates.
→ from: shum.info
Texts and Documents:
→ Anna Ceeh in Conversation with Alexei Borisov (soon)
Sites:
→ https://www.facebook.com/alexei.borisov
→ http://www.myspace.com/alexeiborisov
→ www.nbresearchdigest.com/borisov
→ www.letov.ru/borisov
→ http://shum.info
→ http://www.myspace.com/nothnoiprospekt
→ http://www.farfrommoscow.com/artists/aleksei-borisov.html